Edinburgh Rugby cruised to a convincing 48-0 victory over bottom side Treviso in the Guinness Pro12 at BT Murrayfield on Friday night.
The home side ran in six tries without reply as they recorded their biggest winning margin since 2009, when they defeated Connacht 62-13.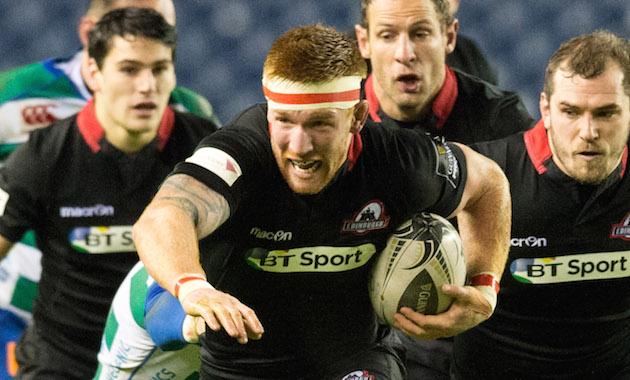 Among the try scorers was Man of the Match Roddy Grant. The flanker scored on the back of a driving maul that had been dominant throughout the encounter.
But while the performance of the pack pleased the 27 year-old, Grant admits there is still plenty of work to be done before next weekend's 1872 Cup tie with Glasgow.
"We are satisfied to get the bonus point try and the win, but if you look at the game as whole, it wasn't very polished," said Grant post-match.
"We were in control of the game and then out of control. That was a bit frustrating."
"We've got a lot of work to do [before Glasgow next week]", Grant said.
Possessing a dominant pack throughout the encounter, Grant acknowledges that this area of the Edinburgh game was exploited to majestic effect.
"Treviso have a really good pack and that was our focus [to beat it]. We needed to outperform them. They're a physical side," said Grant."Rugby is a game based on the set-piece and we found out the hard way. Against Zebre we were poor. We got a lot of heat from it and deservedly so. We vowed never to let that happen again."
With the game already far from Treviso's grasp, the game broke up in the last 15 minutes, due largely to the mass brawl with saw replacement prop Romulo Acosta sent off for punching Fraser McKenzie.
"It didn't affect the mindset but it certainly broke up the game. They had a man down but we also had a man down for that period. It was a big moment in the game, we knew we had to push on," said Grant.
Coach Alan Solomons agreed but was pleased with the character his side showed.
"After the fracas, things were a little bit in disarray for about five or six minutes," said Solomons.
"But we then settled down and got a couple of tries; I thought that was really positive. I was happy with the performance."
Speaking of the red card incident, Solomons added: "We'll look at the tape fully tomorrow and we'll take it from there. It's not something that one wants to see in a game of rugby."
Meanwhile, Grant and his Edinburgh team-mates will have to concentrate their efforts on the first of a back-to-back fixture with Glasgow Warriors at Scotstoun next weekend. Grant relishes the opportunity to build on recent momentum obtained by the capital side.
"We've had a good couple of performances recently, as a pack, but we don't get carried away with that; we've had a tendency to do that."
"It's huge, from a rivalry point of view. Back-to-back Glasgow games are huge for us. Two weeks, eight points up for grabs. We need to climb the PRO12 table. We're doing well in Europe but we need to improve in the league."
Image: http://www.edinburghrugby.org